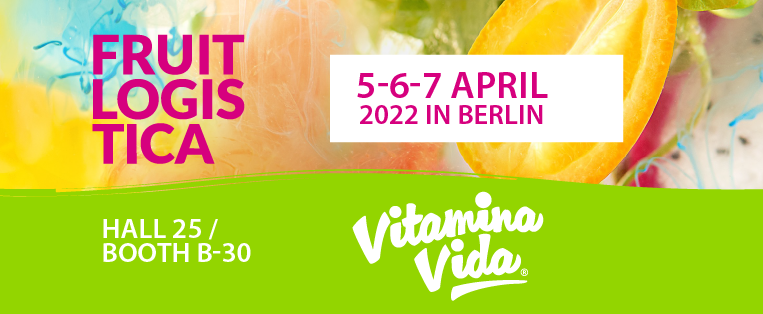 Dear entrepreneurs of the global fruit trade industry, dear fruit importers,
we are very pleased to welcome you and meet you in person at Fruit Logistica, April 5-7, 2022 in Berlin. "Meet onsite again" is, after all, the motto of this year's trade fair edition. That we can now come together again in Berlin – and vitamins instead of viruses are in the spotlight – is wonderful! (+++)
We export from Argentina and Chile fresh produce with the brand Vitamina Vida ® – conventional and organic
We are also delivering Tangerines, Oranges, Garlic, Avocados and Kiwis.
We are looking for European importers for the high-quality South American fresh products with interest in a trustful cooperation and the development of a long-term business partnership. Let's build a new bridge between Latin America and Europe together!
Our booth is located at the joint booth of CFI – Consejo Federal de Inversiones – in Hall 25 / B-30. You can find the hall plan of the fairground here. The interactive hall plan with the exact location of the booth can be found here.
About Vitamina Vida: As a distributor and exporter of the best quality fresh fruit, with 19 years of experience in processing, packaging and selling fruit, the company exports its brand to different countries in America and Europe. You can find us in the online exhibitor catalogue of the fair here. For more information in advance, please visit our website at www.vitaminavida.eu
You are welcome to contact us at any time via the exhibition catalogue of the fair, our online contact form.
+++ As of April 1, 2022, almost all Corona measures will be repealed in Berlin. +++
Access to major events will be possible for participants without proof of testing, recovery or vaccination. This means that exhibitors and trade visitors will be able to participate in the leading trade fair for the global fruit trade without any requirements.
The new regulation of corona measures in Germany and the low infection figures in Berlin compared to the rest of the country will once again allow visitors to visit stores, restaurants, bars and cafés without any restrictions. In addition, the mask requirement has been lifted almost everywhere and still applies primarily in public transport.